Movie Theater
Our movie theater is nestled in the Nelson Recreation Center, just down the hill from HeBrews Coffee Shop. This theater is easy to use through an integrated touch screen and provides a commercial movie theater quality experience for your group.
Call or email our office to check on the movie theater's availability for your next retreat.
*The movie theater must be reserved at least two weeks prior to your retreat.
Email: skycroft@skycroft.org    
Phone: 800-536-6759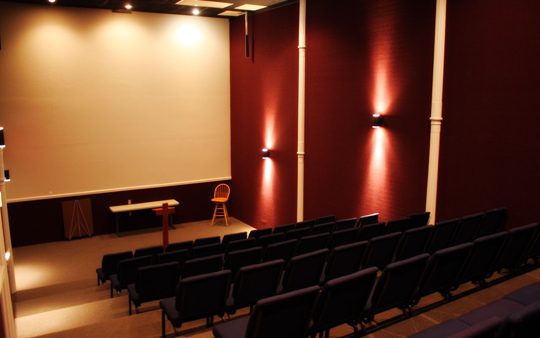 $90 to rent for a 4 hour period.
Our Movie Theater is equipped with full 7.1 channel surround sound, HD Projector, Blu-Ray player, and microphones. We also have XLR, 1/8th inch headphone jack, VGA, and HDMI connectivity to give maximum flexibility for your retreat.
The Movie Theater has space to accomodate up to 85 people.