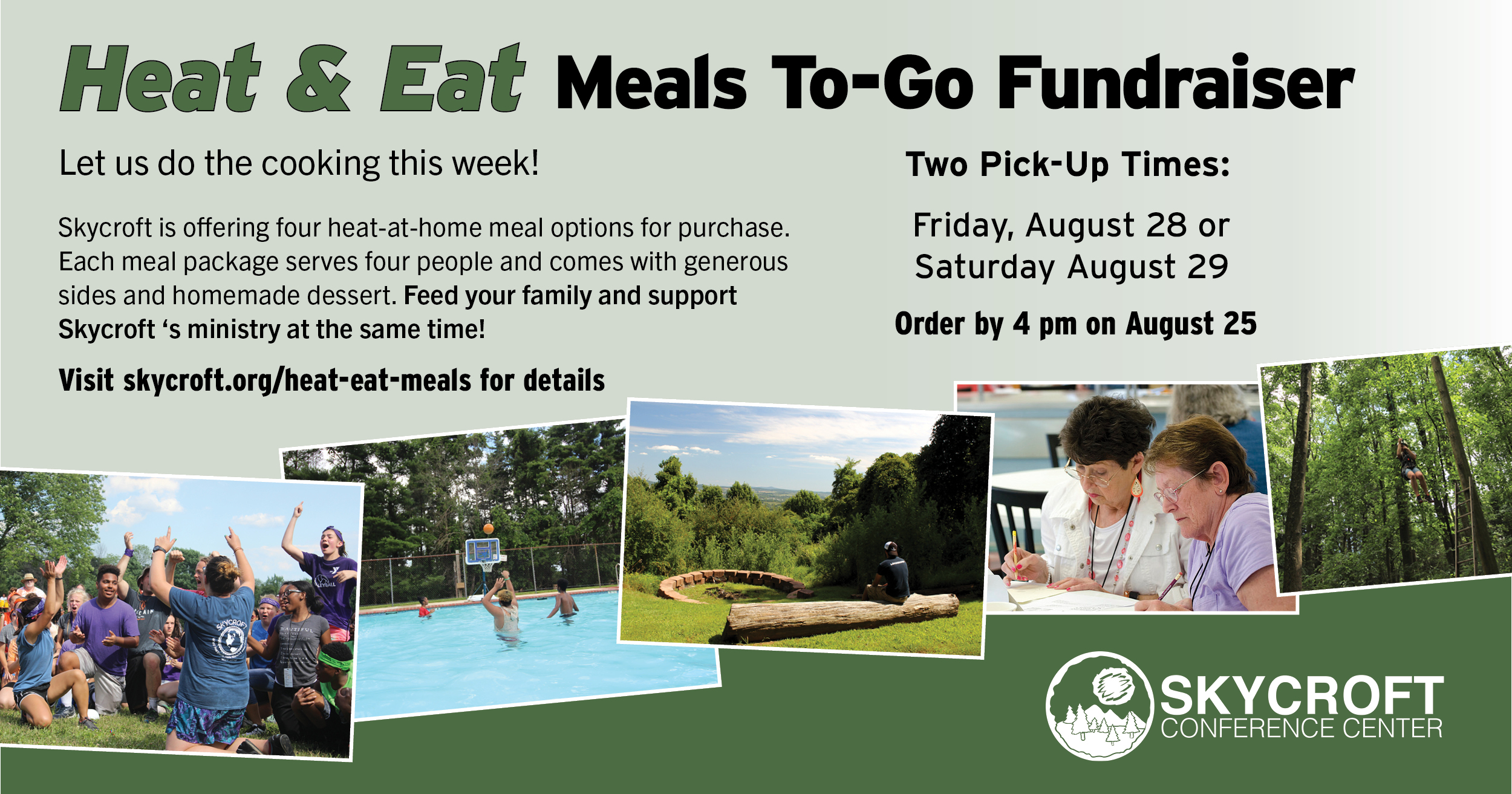 DEADLINE TO ORDER: TUESDAY, AUG. 25th 4PM
Has all this time at home left you tired of cooking? Consider allowing Skycroft to provide a meal for your family through our "Heat and Eat" meal fundraiser.
Your purchase helps sustain our ministry through months of vacancy caused by the COVID-19 pandemic.
All options below are available during both pick up times
FRIDAY, August 28th – 2 – 6 PM AND

SATURDAY, August 29th – 10 AM – 2 PM.
Six Easy Steps to Enjoy Your Skycroft Heat & Eat Meal: 
1. Order ahead using the form below and select a pick-up time
2. Enjoy the beautiful drive to Skycroft to receive your meal
3.  Pick up your order at Gresham Hall with no-contact pick-up
4. Store your Heat & Eat meal in the fridge (or freezer!) until your ready to enjoy
5. Heat your family meal following the instructions provided
6. Enjoy your Skycroft meal at home!
Family of Four Meals to Go  (Heat & Eat) 
Parmesan-Crusted Jumbo Shrimp – $50 
2LBS of jumbo parmesan-crusted shrimp in garlic butter served with honey roasted carrots, shredded cheesy potatoes and dinner rolls
Slow-Smoked Pulled Pork – $35.00 
Our popular slow-smoked pulled pork is served with buns and maple BBQ sauce on the side, shredded cheesy potatoes, honey roasted carrots, and cole slaw
Grilled Chicken in Lemon Herb Sauce – $30.00
Grilled chicken breasts served in a lemon herb butter sauce. Also served with shredded cheesy potatoes, honey roasted carrots and dinner rolls
Classic Lasagna – $25.00
Beef lasagna served with roasted broccoli and dinner rolls
***All of the above meals come with homemade chocolate decadence cake for dessert***
ALSO AVAILABLE &

BACK BY POPULAR DEMAND!
Becki's Famous Chicken Salad – $5.00 per pint